Good news to all TEE-coin investors and believers! We are now releasing a new 'Bonus Wallet' feature so you can earn bonus TEC just by storing your TEC in this wallet.
What is the Bonus Wallet?
The Bonus Wallet is a wallet you can create from the Wallet page to earn bonus TEC by storing your TEC there for a certain period of time. You can transfer the funds from your main TEC wallet to this wallet when creating the Bonus Wallet. The bonus TEC will be credited upfront into the Bonus Wallet at the time of creation. The amount of bonus varies depending on the amount of deposit and the holding period. You can also get an extra 2% bonus if you get to know about the Bonus Wallet through our promoters or ambassadors. They will give you a promotion code, which you will need to key-in at the time of Bonus Wallet creation.
Why should I create a Bonus Wallet?
The Bonus Wallet is a way for us to give back to the people who have been continuously supporting the TEE-coin project and believing in our vision. As an appreciation to those who emphasize steady and continuous long-term growth over the market's short-term ups and downs, we want to reward you with much greater long-term incentives. You can earn up to 5% with the Bonus Wallet, which would be paid upfront. Please refer to the table below for more details.
Amount Deposited x

(TEC)

Bonus

6 months

12 months

100,000 ≤ x < 500,000

0.5%

1%

500,000 ≤ x < 1,000,000

1%

2%

1,000,000 ≤ x

1.5%

3%
How to create a Bonus Wallet?
Please ensure that you have the latest version of the ChatTee app installed. When you go to the Wallet page, you will see an interface that allows you to create a Bonus Wallet.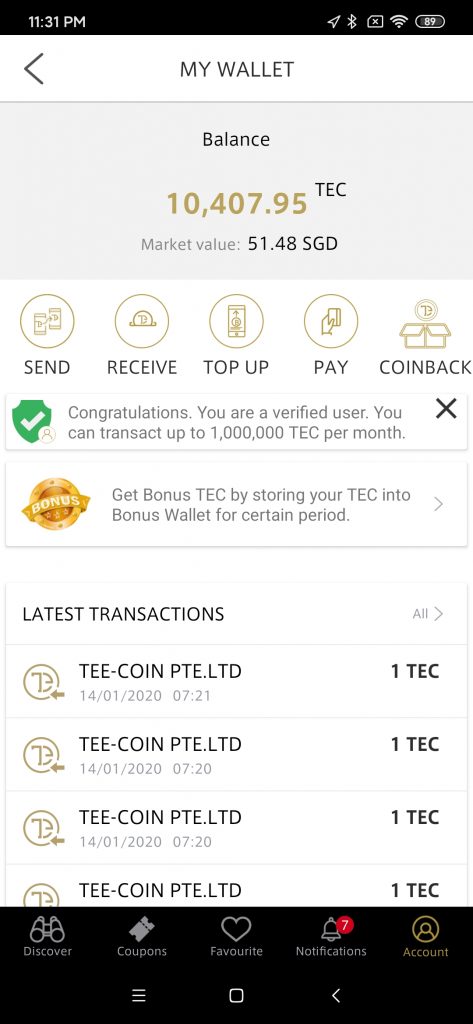 How does it work?
A few points to take note when you are creating the Bonus Wallet:
A minimum balance of 100,000 TEC is required to create a Bonus Wallet.
The upfront bonus is calculated based on the amount deposited to the Bonus Wallet and will be deposited in the Bonus Wallet. The upfront bonus percentages may change from time to time.
The TEC transferred to the Bonus Wallet cannot be withdrawn before the maturity date. On the maturity date, the TEC in the Bonus Wallet will be transferred back to the main account automatically.
You can create as many Bonus Wallets as you want.
The rate may change without prior notice.
For information and inquiries, please feel free to reach us at https://chattee.reviews/contact-us.