Spread the Good News and get Free Killiney $2 E-Vouchers
If you've already heard about the Get A FREE Meal from our 10% Coinback Event, why keep it to yourself? Spread the good news on social media and we will reward you with a Killiney Kopitiam $2 E-Voucher. Simply do any of these steps to get the e-Coupon. If you do both, you will get two e-Coupons.
1. Like our Facebook page. Like and Share the post on your timeline.
2. Follow our Instagram page. Like and add the post to your story highlight.
And you're done. Just notify us by sending the screenshots via Whatsapp (+65 9326 6308) and we'll send you a Killiney $2 E-Voucher directly to your ChatTee app.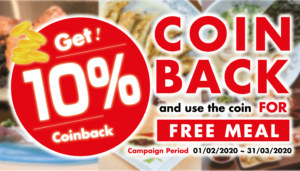 Happy Sharing!
Just a few things to take note:
• The Free Killiney $2 E-Voucher giveaway is valid from now till 31 March 2020 or till all the e-Coupons are fully redeemed, whichever is earlier.
• First 1,500 likes or sharing only. Once all the e-Coupons have been given away, we will update the article and mark it as "FULLY REDEEMED".
• Facebook and Instagram accounts must be real. Inactive, fake and bot accounts will not be accepted. Users found to be using multiple accounts will be blacklisted and no rewards will be given.
• All sharing must be open as public. Your Facebook and Instagram profiles need to be set to public so we can verify. Please allow 1-2 working days for us to verify before we can send the e-Coupon to you.
• eCoupon is redeemable at Killiney Kopitiam – UE Bizhub East, 67 Killiney Road, and OCBC Centre only. Please specify the branch you prefer when sending us the Whatsapp message.
• Please check the e-Coupon's expiry date and ensure you go to the actual Killiney shops to redeem it before it expires.
• Please send us a Whatsapp message with the screenshots similar to the following ones.