ChatTee & WAon: Strategic Partnership
3 December 2020
We are pleased to announce our strategic partnership with WAon Pte Ltd which is affiliated with 和テンション株式会社 in Japan.
WAon Pte Ltd is a well-established media company rooted in Singapore for over 20 years. Its free information Japanese-language magazine "Mangosteen Club", loved by over 40,000 Japanese readers living here, is rich in essential information for Singapore life with a wide range of gourmet, beauty, and culture. Not only that, they also have "WAttention" English-language magazine published in Singapore, Tokyo, Hong Kong, Taiwan, Thailand, Indonesia, Malaysia, Paris, Los Angeles, Mumbai and Australia.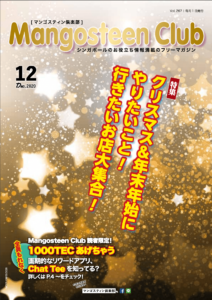 As the start of the collaboration, ChatTee is featured in Mangosteen Club December edition and it's featured on Mangosteen's Club Facebook Post and  Mangosteen Club Magazine. In the magazine, Mangosteen highlights the functionalities of ChatTee, including the various methods to get rewards, and the special promotion that we have for Mangosteen readers.
With the partnership, ChatTee and WAon will be able to reach out to the users on both sides of the platform and deliver a combination of rich cultural knowledge and real-life exploration in an innovative and fun way. It also unlocks the full potential of full marketing, user management, and advertisement solution that we can provide for the merchants so they can understand and reach out to their users easily and more effectively.
We look forward to this collaboration and cooperation to bring solutions to both merchants and users, not to just provide technology solutions but also contents which are entertaining, engaging, and at the same time informative.